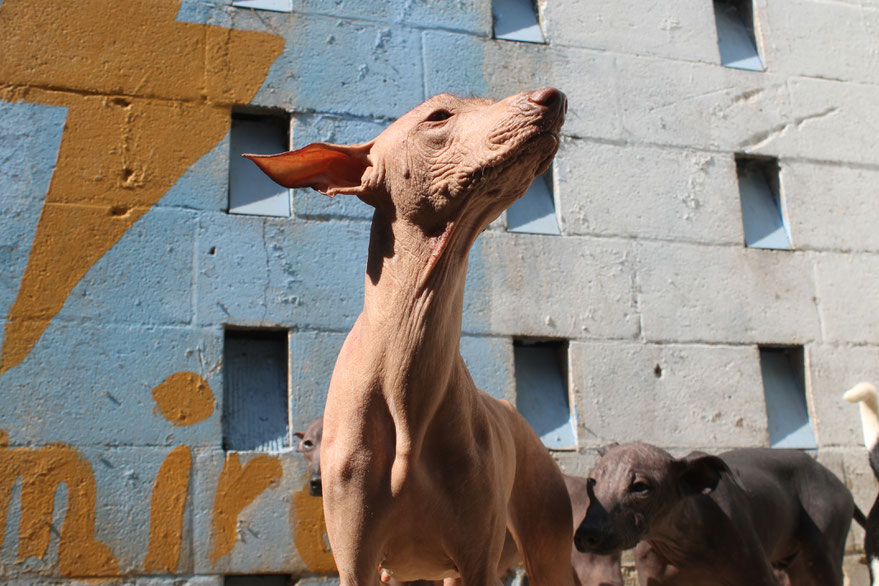 The Xoloitzcuintle, also known as the Mexican Hairless Dog, has a long and rich history that is deeply intertwined with the ancient civilization of the Aztecs. The breed was highly revered by the Aztecs and played a significant role in their cultural practices and traditions.
According to Aztec mythology, the Xoloitzcuintle was believed to be the companion of the god Xolotl, who was the god of lightning, fire, and the evening star. It was believed that the Xoloitzcuintle had the ability to guide the souls of the deceased to the underworld, and as such, they were often depicted in Aztec art and burial practices.
In Aztec society, the Xoloitzcuintle was more than just a beloved pet; it was also used for practical purposes such as hunting, guarding the home, and even as a source of food. The breed's hairless appearance made it well-suited for the hot and humid climate of ancient Mexico, and its keen sense of smell made it an excellent hunting companion.
Despite its practical uses, the Xoloitzcuintle was also seen as a symbol of status and wealth in Aztec society. It was common for high-ranking Aztec officials and nobility to own and breed Xoloitzcuintles, and they were often featured in lavish ceremonies and rituals.
Today, the Xoloitzcuintle remains an important symbol of Mexican culture and heritage. The breed has been recognized by the Mexican government as a national symbol and has been featured on Mexican stamps and coins. It is also recognized by the American Kennel Club as a rare and unique breed.
In recent years, the Xoloitzcuintle has gained popularity among Mexican artists and nationalists who are seeking to preserve and promote the country's cultural traditions. The breed has been featured in a number of Mexican art exhibits and has become a popular subject for Mexican artists who are interested in depicting the country's rich cultural history.
In conclusion, the Xoloitzcuintle has a long and storied history that is deeply connected to the Aztecs and the cultural traditions of Mexico. It remains an important symbol of Mexican culture and heritage, and its enduring popularity among Mexican artists and nationalists speaks to the enduring significance of this breed in Mexican society.
Somos Xolos Ramirez, Criadero del perro mexicano Xoloitzcuintle ubicados en la Ciudad de México.